San Diego Bathroom Remodeling
Bathroom Remodel | San Diego
At Eco Minded Solutions, we create bathrooms with a perfect balance between beauty and functionality, creating spa-like custom bathrooms in your San Diego home. Whether you're looking to replace the bathtub, shower, flooring, or everything in between, our bathroom remodeling expert execute your vision.
How to Get the Most Out of Bathroom Remodels
When you invest in custom bathroom remodeling, you want to make sure that you get the most for your money. With our professional remodeling services, you can be sure that everything, from the lighting fixtures to the floor tile, fits your vision. Our first design consultation helps our expert team know your tastes and vision for the space. With decades of experience as a whole home & bathroom remodeling company, our expert team has the knowledge to help you build the bath of your dreams.
Not sure where to start? We will walk you through bathroom designs & handle plumbing, electrical systems, and everything needed to create a long-lasting new bathroom remodel.
Bathroom Remodeling with New Comfort-Focused Features​
Our team is committed to incorporating the latest and most desirable features in your bath remodel. We prioritize comfort and practicality, and our designs can include heated flooring for those cooler mornings, deep soaking bathtubs for ultimate relaxation, and spacious walk-in showers with modern, luxurious fixtures. We also offer dual sink vanities to make morning life easier for two, custom cabinets to maximize your storage space, and walk-in tubs with design specifications for the elderly.
Furthermore, we consider energy-efficient and water-saving fixtures to help reduce your environmental impact and save on utility bills. We understand that sustainability is also important when it comes to the best bathroom remodeling. That's why, as San Diego's premier eco-friendly bathroom remodeling contractors, we offer a range of comfort-focused and eco-friendly features to help you create the perfect bathroom. From energy-efficient or natural lighting to low-flow toilets, we have the perfect features to make your bathroom both comfortable and eco-friendly.
With our bathroom remodeling services, every detail is meticulously planned and executed to ensure the perfect blend of luxury, comfort, and sustainability in your new bathroom.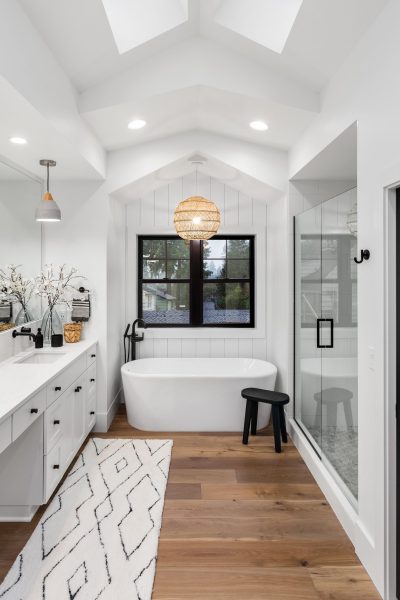 There is nothing like taking a nice long bath to relax. It's even better to enjoy one in a brand new bathroom and a walk-in tub, with an all-encompassing shower, is always a popular choice. Regardless of size, Eco Minded Solutions designs for a large or small bathroom, maximizing how your tub fits and works with the space.
Turn your master suite or a second bath into one of your favorite areas by adding a steam room. Instead of paying for a weekly or monthly trip to the sauna, you can purchase a steam room and enjoy it on demand. Is your energy level lower than usual? Step inside the steam room and reinvigorate your body. A new steam room is one fixture you will not regret investing in.
Deliver more with the design-build process
At Eco Minded Solutions, our skilled professionals guide San Diego homeowners through the entire process of bathroom remodels. Our design-build process ensures that there is a single point of responsibility throughout the construction process, fostering collaboration and helping to deliver projects on-time and within budget.
An expert project manager and our in-house team will take your bathroom remodel from design to construction smoothly. When you choose Eco Minded Solutions as a general contractor you are getting a dedicated network of custom home and bathroom remodeling contractors and full-time staff. As a boutique luxury remodeler and landscaper, we offer care and attention that no other San Diego bathroom remodelers can.