San Diego Kitchen Remodeling
Kitchen Remodel | San Diego
Eco Minded Solutions are expert kitchen remodeling contractors and are dedicated to delivering clients their dream San Diego kitchen. No matter what type of kitchen remodeling project you are considering, our design and construction professionals lead you through the kitchen remodeling process—from initial consultation through to project completion and beyond.
How to Transform Your Home Through a Kitchen Remodel
Kitchen remodels are more than just a home improvement project; they're life improvement projects. The kitchen serves as the heart of the home, providing a central hub for family interaction, meals, and entertainment. When you update and modernize your kitchen, the benefits extend far beyond the room's four walls.
A proper kitchen remodel project not only enhances your cooking abilities, it creates a more inviting atmosphere throughout your home and can seamlessly integrate with your living area, making it more conducive to open, interactive lifestyles.
Layout Changes To Maximize a Major Kitchen Remodel
For major San Diego kitchen remodels, altering the layout can have a dramatic impact—even more than new kitchen cabinets or countertops. By reconfiguring the placement of appliances, counters, and storage throughout the home remodeling process, you can dramatically improve the flow and functionality of the space.
Our San Diego Kitchen Remodeling experts know the best ways to execute a kitchen renovation to maximize layout change. The strategic kitchen remodeling expertise we employ will modernize your kitchen and cater to your specific lifestyle and preferences, making the kitchen truly your own.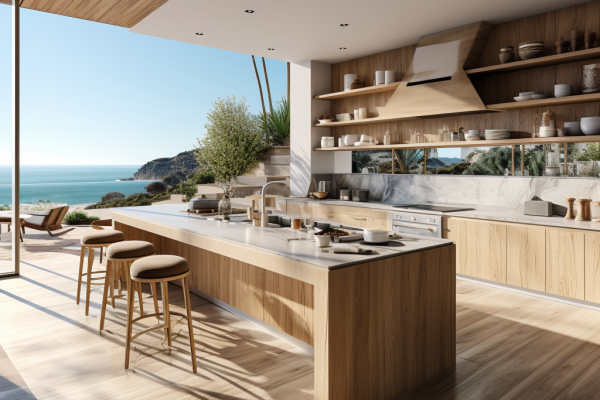 Go Beyond A Kitchen Remodel
Our expert team can execute your dream kitchen remodel but we're not just kitchen remodeling contractors. Let us take on a whole home remodel and create a San Diego paradise throughout your entire home.
Our services include kitchen/bathroom remodels, dining room transformations, outdoor living spaces, and more. We put as much dedication into a pristine San Diego kitchen as we do throughout the whole home. Consider hiring a kitchen remodeling contractor who can do it all!
How Kitchen Remodeling Improves Your Cooking and Hosting Experience
Kitchen remodeling is a great way to improve your cooking experience. With Eco Minded Solutions Kitchens, you can update your outdated kitchen and create a space that is perfect for entertaining guests. Our professional kitchen remodeling services in San Diego will help you create a kitchen that is both beautiful and functional. We will work with you to create a kitchen that meets your needs and fits your budget. Adding a kitchen island, new cabinets, modern light fixtures, granite countertops, or new flooring can make all the difference and enhance any gathering. Our entire process culminates in a beautiful space for everyday living, with the goal that your full kitchen remodel meets your needs.
Features to Consider for Your New Kitchen
When planning a complete kitchen remodel, there are many features to consider. From flooring and countertops to cabinets, doors, windows, paint colors, and appliances, our professional team can help you create the perfect kitchen. Regardless of preferences and style, our knowledgeable team works with our clients to design a functional San Diego kitchen. Here are a few features you should consider before scheduling your free consultation: